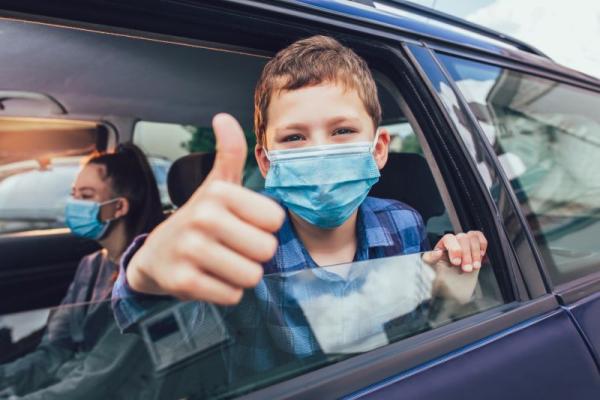 When traveling with a neurodiverse child or individual, It's essential to plan ahead and be ready with some useful tools along the way. Caregivers can help make the trip as enjoyable as possible for the whole family by creating and using a travel "tool kit" to ease planning and preparation, and support the sensory needs of neurodiverse children. Duke Center for Autism and Brain Development Clinicians Tara Chandrasekhar, MD, Rachel Aiello, PhD, Marika Coffman, PhD, and Carla Wall, PhD, have created our Duke Center for Autism Travel Toolkit to help. It includes planning information, tips, and samples to help you meet your family's needs.
What's in our Travel Toolkit?
---
Visual Schedules [Download the Full PDF here]
How do these help? Since strictly keeping your everyday routine during a trip can be challenging, creating a Visual Schedule will allow your child to develop an understanding of a new routine for your trip.
Who benefits? Using a Visual Schedule can be an effective organizational tool for all, but they are particularly helpful for children and individuals with ASD or other neurodiversities. They may help to reduce anxiety by providing consistency while also reducing resistance that could accompany certain activities by clarifying expectations.
Tips to create your own:
ID the Skill and Steps: Identify the skill or routine you want to teach, and determine the simple steps that are involved in the activity.
Choose the Length: Choose a length appropriate for your child and adjust as needed. Young children may benefit from a "First/Then schedule," or a half-day or full day schedule.
Keep it Personal: The more the child can relate to the visual schedule, the more they are likely to understand it.
Give Cues:When it is time for an activity on the schedule to occur, cue your child or the individual with a brief, verbal instruction.
Mark it Complete: Include a way for the individual to indicate when steps have been completed.
Celebrate! Provide praise and reinforcement when activities are completed.
---
Social Narratives [Download the Full PDF here]
How do these help? Creating a Social Narrative can help neurodiverse children and individuals prepare for changing expectations before they happen, so that they can predict what is going to
happen next and learn how to adapt their behavior.
Who benefits? Social narratives can be effective tools for anyone, but they are particularly helpful for neurodiverse children and individuals. Social Narratives may help to reduce anxiety by providing examples and a roadmap for expected behaviors.
Tips to create your own:
Focus on answers to the most important questions.
Consider the individual's unique perspective.
Provide visual cues and don't overload the information.
Frame it positively.
View our sample "My Family is Taking a Road Trip" social narratives here for pre-reader and early readers here.
---
NEW!! Distraction Toolkits - [Download the full PDF here]
How do these help? Traveling can be a lot of fun, but also filled with challenges! Aside from navigating the inherent stress that comes from "getting from here to there," neurodiverse children and autistic individuals may experience additional anxiety from being in a new setting. Unstructured time, often a part of traveling, can be challenging for those with neurodiversities, as well. A Distraction Toolkit helps travelers with neurodiversities engage in appropriate behaviors, remain calm, and cope with delays, boredom, or unstructured time.
Who benefits? Anyone can benefit from a distraction toolkit. In fact, most people who travel will bring along some items to help them stay busy and cope with delays. Distraction Toolkits, which contain carefully selected materials to meet individual needs, can be particularly helpful for autistic individuals and those with sensory or attentional difficulties.
Tips to Create Your Own can be found on the PDF here.
---