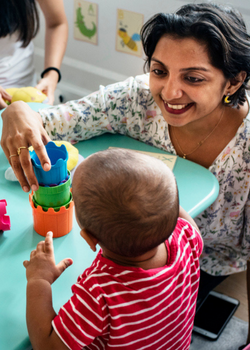 Early Start Denver Model (ESDM) training is offered to clinical psychology interns and postdoctoral fellows at the Duke Center for Autism. Periodically, we offer ESDM workshops to the broader community, designed for those interested in an introduction to ESDM's core principles and practices. (The workshop is not designed to certify individuals as ESDM therapists.) Information about future workshops will be posted here. Persons interested in receiving ESDM training can find out more information here. 
What is ESDM?
The Early Start Denver Model (ESDM) is a comprehensive, naturalistic developmental behavioral early intervention approach designed by Drs. Sally Rogers and Geraldine Dawson for children ages 12 to 60 months who are diagnosed with or may have autism spectrum disorder (ASD). The model uses the knowledge of how typical children develop and learn and the ways in which autism affects early development in order to improve developmental outcomes for autistic children.
The goals of ESDM are to promote language, social interaction, and learning and to accelerate children's developmental rates in multiple domains, including cognitive, social-emotional, adaptive, and language skills. ESDM is a manualized intervention and is comprised of a curriculum, a set of teaching practices that are based on naturalistic developmental applied behavior analysis principles, and a fidelity measure.
ESDM is one of two early intervention methods that are considered by the Agency for Healthcare Research and Quality to be efficacious intervention methods. Efficacy was initially established in an NIH-funded randomized clinical trial with autistic toddlers, which demonstrated that ESDM resulted in significantly improved cognitive, language, adaptive behavior, and social outcomes, as well as normalized brain responses to social stimuli. Several additional studies have demonstrated the efficacy and effectiveness of ESDM across a variety of formats, including intensive delivery, parent coaching, and preschool/daycare delivery.
Books on ESDM
Rogers, S.J. and Dawson, G. (2010) The Early Start Denver Model for Young Children with Autism: Promoting Language, Learning, and Engagement.  New York:  The Guilford Press.  Translated into Japanese, Italian, Dutch, French, Spanish, Portugese, Chinese, Arabic, Romanian, Korean, Polish, German, Russian, and Turkish.
Rogers, S.J., Dawson G., and Vismara, L. (2012).  An Early Start for Your Child with Autism.   New York:  Guilford Press. Translated into Spanish, Dutch, Japanese, Portuguese, French, Chinese, Lithuanian, and Russian.
Vivanti, G., Duncan, E., Dawson, G., and Rogers, SJ.  (2016). Implementing the Group-based Early Start Denver Model for Preschoolers with Autism.  New York:  Springer Publishing.