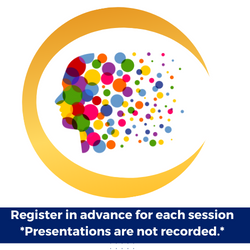 Register in advance for our next presentation:

Oct. 5, 2022, 4:00 p.m. Eastern

Jennifer McLaren, M.D.
Geisel School of Medicine at Dartmouth
"The Integrated Mental Health Treatment Guidelines for Prescribers in Intellectual and Developmental Disabilities"
Our full 2022-2023 Speaker Line-up will be announced soon!
---
PAST EVENTS - 
Autism Speaker Series presentations are not recorded. 
Sept 7, 2022 - Giacomo Vivanti, PhD, AJ Drexel Autism Institute at Drexel University, "Applying a Public Health Approach to Autism Early Intervention: A Framework for Action"
June 2, 2022 - Brian Boyd, PhD, University of Kansas, "Understanding Implicit Racial Bias within the Context of ASD"
May 4, 2022 - Brenna Maddox, PhD, University of North Carolina, and Lisa Morgan, M.Ed., CAS, "Risk Factors, Warning Signs, and Suicide Prevention for Autistic People"
April 14, 2022 - Rep. Jennifer Benham, D-PA, Keynote Presentation for 2022 Autism Acceptance Month, "Overcoming Stigma, Not Autism: Why Being Autistic Makes Me a Great Legislator"
March 2, 2022 - John Strang, PsyD, Children's National Hospital, "The Intersection of Autism and Gender Diversity"
Feb. 2, 2022 - Sudha Arunachalam, PhD, New York University, and Rhiannon Luyster, PhD, Emerson College, "Learning Words from Overheard Language in Children on the Spectrum"
Jan. 5, 2022 - Sophy Kim, PhD, Weill Cornell Medical Center, "Tracking Treatment Response in Children with ASD" 
Dec. 1, 2021 - Matthew Lerner, PhD, State University of New York Stony Brook, "Catch Me If You Can: Novel Mechanisms of Social Functioning and Intervention in Youth with ASD"
Nov. 3, 2021 - Staci Bilbo, PhD, Duke University, "Microglia, Microbes, & Development of the Social Brain: Implications for ASD" 
Oct. 6, 2021 - Maya Corneille, PhD., Co-Director, Collective Health and Education Equity Research, "Approaches for Building Equity and Empowerment for Families with Autistic Children"
Sept. 1, 2021 - Lawrence Fung, MD, PhD, Stanford University, "The Stanford Neurodiversity Project: A Multi-faceted Approach to Advance Neurodiversity Advocacy and Research in Academic Psychiatry"
May 12, 2021 - Danai Fannin, PhD., NC Central University, "Rural Health Disparities in ASD"
March 3, 2021 - Jill Locke, PhD, University of Washington, "Applying Implementation Science Methods to Support Evidence-based Practice Use for Children with Autism in Schools"
Feb. 3, 2021 - Giulia Righi, PhD, Brown University, "A Partial Hospital Program for Children & Adolescents with Developmental Disabilities & Psychiatric Co-morbidities: Lessons from the Trenches" 
Jan. 6, 2021 - Vanessa Bal, PhD, Rutgers University, "Assessment of Minimally Verbal Children and Adults" 
Dec. 2, 2020 - Fred Shic, PhD, University of Washington, "Visual Attention in ASD: Explorations Across Development" 
Nov. 4, 2020 - Darren Hedley, PhD, La Trobe University, "From Employment to Mental Health and Suicide Prevention: Reflecting on Five Years of Research with Autistic Adults"
Oct. 7, 2020 - Chris Chatham, PhD, & Kevin Sanders, MD, Roche,"Challenges in Developing Novel Interventions for Autism at the Global Scale"