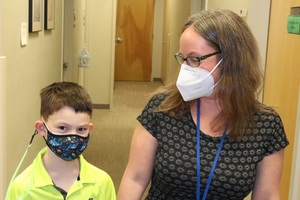 At the Duke Autism Clinic, we provide exceptional, compassionate, comprehensive care to autistic people and their families so that each individual can realized their fullest potential.
We seek to understand the unique needs and circumstances of each person and their family, and develop a plan together tailored to meet individualized goals.
A part of the Duke Center for Autism and Brain Development and the Duke University Health System, we provide referrals to medical and community providers to assist the individuals and families we serve.
Our Duke Autism Clinic team of providers includes:
Child and Adolescent Psychiatrists, who provide psychiatric evaluation and medication management services to autistic individuals.
Licensed Psychologists, who conduct diagnostic evaluations and provide intervention services to autistic youth and families.
Licensed Clinical Social Workers, who provide intervention and care coordination services to autistic youth and their families. 
We provide:
Autism diagnostic and evaluation services
Autism intervention and therapies
Consultation services
Referral services
Psychiatric evaluations
Medication management
We support comprehensive patient care by collaborating with Duke Health specialists, located outside of our clinic, to help families who need services related to:
Neurology
Speech language therapy
Eating disorders
Primary care
Gastroenterology
Occupational/Physical therapy
Medical genetics
Read more about our Philosophy and Behavioral Therapy Services here.