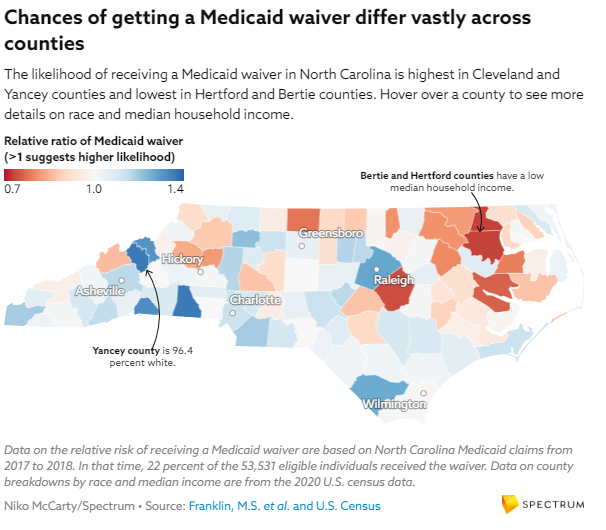 Black and Hispanic people with autism or intellectual disability in North Carolina are less likely to receive a Medicaid waiver for home and community-based services than their white peers are, according to a new study. A person's age and the county in which they live also affect their chances.
The waivers are the largest source of funds for home and community-based health-care services in the United States. The provisions allow Medicaid — insurance from the federal government for low-income families — to cover transportation and mental health services, as well as speech, physical and occupational therapy. How Medicaid administers these waivers, though, is left up to individual states, which has led to wide variation in their distribution.
Waiver programs have limited spots and, often, a waitlist. In North Carolina, people stay on that waitlist for 7 to 10 years, according to lead investigator Michelle Franklin, a postdoctoral research associate at the Margolis Center for Health Policy at Duke University in Durham, North Carolina. The national average is about two years, and most programs operate on a first-come, first-served basis.
"The problem with that is if everybody's not hearing about it equally," Franklin says, or "if everybody doesn't have the same support, that people aren't going to get on the waiting list." Read the full article in Autism Spectrum here.